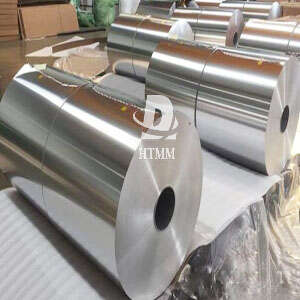 Alloy 8079 is commonly used in the production of various aluminum alloy foils and it offers optimum performance in many applications in the H14, H18 and O tempers and in thicknesses between 6 and 200 microns. Alloy 8079 Aluminium Foil 7 Micron Thickness is mainly designed for general packaging of medicines and cosmetics, and its performance is better than that of pure aluminum foil. Most importantly, we manufacture products according to customers' requirements. The high quality 8079 foil supplied by HTMM meets the needs of various markets such as packaging foil and pharmaceutical foil.

For this application we require stringent surface finish and strength. Please take it seriously when buying, don't just focus on the price, also check the TDS, make sure the brush is level and the pinholes pass. Alloy 8079 Aluminium Foil 7 Micron Thickness production and inspection criteria for our products: The material must be suitable for lamination purposes. The foil needs to be flat and free from streaks, unevenness and/or wrinkles, scratches, cracks, rust residues, oil spots, oxidation and stains or any other defects. The surface of the foil will be shiny on one side and matte on the other, and the windings of the coil will have the shiny side on the outside.

Each foil should be seaworthy packed in a crate or box and wrapped with kraft paper, PP film and PE foil. A sufficient amount of desiccant should be placed in the package to prevent condensation. Foils less than 10 microns thick shall be supplied in a hanging condition.

HTMM promises that as long as the customer signs back the contract, pays the deposit and sends the bank receipt within the agreed time, we will perform the contract. And no matter how much it will increase in the future, we will not increase the price. We pay attention to reputation and long-term cooperation, which is very important for us to expand our foreign trade business.