Do you use an oven at home? Many dishes now need to be baked. Owning an oven not only makes it more convenient for you to cook, but also allows your family to eat more delicious food, such as baking cakes, egg tarts, or baking Orleans chicken wings. Whether it is snacks or dishes, it is very convenient to use the oven , then we will inevitably encounter some troubles when using the oven, that is, cleaning up afterwards will be very troublesome, so is there any way to solve this problem? Of course, we can use aluminum foil when using the oven.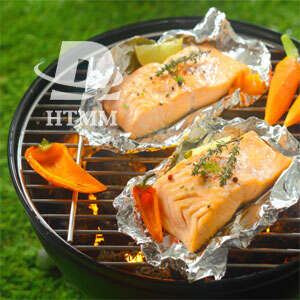 There may be other friends who are not familiar with aluminum foil. Its raw material is aluminum and the material is very light, and it has strong ductility, and the price is very affordable. Many families will always have it. Not only can 10 Micron Silver Aluminum Foil be used when using the oven, there are many places in our life that can reflect its functions, such as our use of it to keep fruits and vegetables fresh, and to make our kitchen utensils sharper, etc.

HTMM can provide you with the most suitable products for you. We always insist that the user's requirements are the most important, and we have insisted on this for many years. We will produce in strict accordance with the requirements of customers, and will conduct strict screening for product quality. Your purchase is very welcome.